 Television Delivers a Top Audience of Influential Professionals with 71 Million Subscribers Nationally. According to the Mendelsohn Affluent Survey is #1 with C-Suite Leaders. 109% more likely to be C-Suite Executives (Index 209), #1 with Decision-Makers. 93% more likely to authorize financial purchase decisions for company (Index 193), #1 with Affluent Execs. 118% more likely to have a household net worth of $5MM+ (Index 218) and #1 with Key Influencers. 79% more likely to have participated in 5 or more public activities in the past year (Index 179)
Television's audience is: 67% Male / 33% Female, 69% are Married with a HH Income (Average) of $105K
International reaches over 50 countries in Europe, Asia Pacific & Latin America. According to the Mendelsohn Affluent Survey, includes the highest concentration of financial professionals and a higher proportion of viewers titled as President, CEO, or COO of any cable network measured.
is the leader in global business and financial information, enabling customers to make smarter, faster, more informed business decisions. delivers the most timely, accurate and concise business news coverage, together with context and insights based on unbiased information. Television reaches over 198 million potential households – all available in HD.

---
The Roku TV and Amazon Fire TV platforms enable content providers and advertisers to reach a massive and highly engaged consumer audience. Worldwide Business with kathy ireland® has a dedicated channel on each of these platforms!

43 Million Active Accounts

40 Million Users
---

---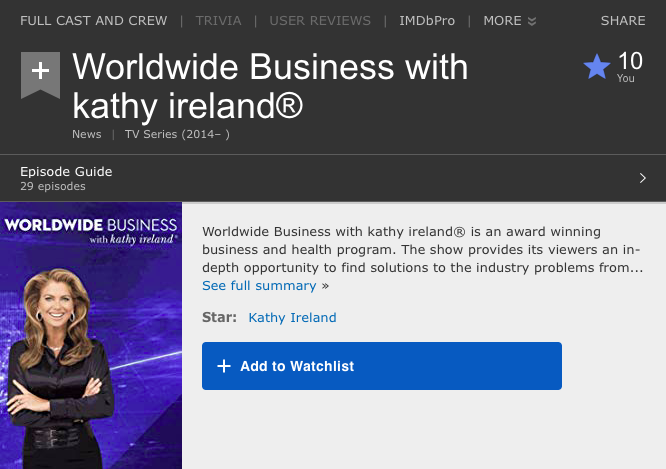 ---